Peez Leweez: an enticing evening of music and poetry
LIVINGSTON MANOR, NY — This past Saturday evening, warmth, melodious singing, thoughtful poetry and captivating readings combined to make the recently opened coffee house a place to come in out of the cold and feel welcome. Peez Leweez, a gorgeously renovated storefront café located on Pearl Street in Livingston Manor was enlivened by an open-mike evening hosted by Times Herald Record reporter Chris Farlekas. The owners, brothers Ryan and Corey (Sims) Foster are in the process of creating an enchanting place to be. In a county that is rife with talented performers, some of whom are yet to be discovered, having a place for people to perform and for others to listen cannot help but succeed.

Entering Peez Leweez is a delightful experience. The wonderful aroma of coffee, the soft lighting and comfortable furniture and, most impressively, the array of photographs on exhibit by a student of aesthetic realism, Len Bernstein, are alluring and awakening.
Len Bernstein's work speaks to the observer about the connectedness of the human experience. Inspired by Eli Siegel, critic and founder of the philosophy of aesthetic realism, Bernstein's photographs capture the essence of aesthetic realism, as "The deepest desire of all of us is to like the world on an honest basis."
Once a disquieted and bored youth like many of our present-day teens, Bernstein found meaning in taking photographs that focus on everyday people, their emotions and their experiences. According to him, "art is the opposite of contempt" as it seeks to make the world a better place by fostering empathy, understanding and humanity. The world is greatly beset by contempt, namely by those who try to make themselves better at the expense of people and the world around them.

The positive attributes symbolized by his work were reflected in the performers and the reaction of the audience this past Saturday. In his introduction to the first performers, Julie Ziavras and Ken DeAngelis, a pair of delightful composer/folksingers, Chris Farlekas invited the audience to "Listen, hear and explore something in their hearts." Chris first met Ken and Julie (as they are known) in Astoria Queens about 10 months ago. Their eclectic selections of original songs and adaptations of other people's work featured gentle harmony and beautiful resonance. Their lilting songs filled the small café and captivated the audience. Each song had a story or connection to it that made their short set vivid and riveting. One of these included an original by Ken called "The Dream," a great rendition of "The Kid" and a song that was written to commemorate Ken's long-overdue cruise to the Bahamas. That tune, entitled "Splash" was named after a Canadian band he met while on board. They concluded with a beautiful duet called "Kate and the Ghost of Lost Love."
Following their set, people had a chance to get up, chat and peruse Len Bernstein's stirring photos. This served to further establish the interactive atmosphere and break down any distance between performers and audience.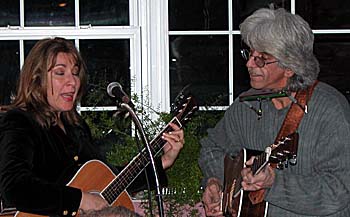 TRR photo by Richard A. Ross
Singer songwriters Julie Ziavras and Ken DeAngelis (known as Ken and Julie) delight the audience with their harmonies.

Don Hendrickson, a local resident then delighted the room with a reading of some of his personal poems including "Tranquil" and Tranquil II." He was followed by Delacey Skinner, a writer who read a short story entitled "C is For..." The stirring narrative explored a woman's attempt to define herself in the context of a friend-turned-lover's disease, her own betrayal of her marriage and a coming to terms with a life that had "grown out of proportion." Skinner is president of The Southern Literature Council of Charleston, which is offering a Writers-in-Residency program for southern writers, or writers who are writing about the south. Currently, she is engaged in fundraising for this project that will offer writers space in a residency near the beach. There they would have space to write, a place to stay rent-free and meals for two to four weeks. She has just recently written and performed in an original one-act play entitled "Standard Deviations." It concerns women talking about sex and was just performed at the Red Room above the KGB bar on Fourth Street in Manhattan.
The local mike night was a great success and is slated to become a regular event. If this evening is any indication of what is to come, Peez Leweez is likely to enrich the expanding tableau of art, activity and atmosphere in Sullivan County.